Over the years, I have given a lot of thought to what happens when a new Website goes 'live' and opens its doors for business. And in particular; how to promote a new website and encourage new visitors to check it out. With this in mind, I have put together a guide that explains the process I follow when promoting a new Website. I have broken this down into seven easy steps which can be followed by anybody with a new (or not so new) Website, whether it was created by TDL Web Developments, another agency, or even if you have created it yourself using a page builder. There isn't any required technical knowhow included and you won't have to get involved with the nuts and bolts of the Website code.
I will explain in detail as we go on, but in a nutshell, the steps to follow are:
Check your Website is fit for purpose
Get your site indexed by Google
Submit your URL to Bing too
Get and verify a Google My Business listing
Sign up for a Bing business listing
Add your URL to your social media profiles
Submit your URL to reputable online business directories
By following the above steps, you will ensure your business website can be found online, boost its ranking in the search engines and provide easy access for your customers.
1: CHECK YOUR WEBSITE IS FIT FOR PURPOSE
To check if your Website is fit for purpose, you should be looking at things like:
Is your Website easy to use?
Does it look good on mobile screens?
Is your contact info easy to find?
Is your text easy to read and spelt correctly?
Are your most important keyword phrases included?
Leonardo (Da Vinci not Dicaprio) said; "Simplicity is the ultimate sophistication" and I firmly believe that simple is good, especially when it comes to website copy. So make sure your text is easy to read and doesn't include jargon or lengthy sentences when a shorter one is more effective.
Wait a minute! Keyword phrases? What are they?
Put simply; keyword phrases are the words that people will use when searching. So if you are a plumber in Liverpool then you should make sure your page content includes things like "liverpool plumber", "plumbing services liverpool", etc. It is way beyond the scope of this article to go into detail but if you're curious head over to The Beginner's Guide To Keyword Research.
2: GET YOUR WEBSITE INDEXED BY GOOGLE
Simply sharing your Website's URL on social media, such as Facebook or Twitter will get it indexed and listed in search engine results eventually. But this is far from a reliable method and a much better way to get your Website indexed is by going directly to Google.
Head over to the Google Search Console, log in with a Google account and submit your Website's domain name. You will have to verify ownership of the domain and you might need to enlist the help of your Website developer for this. But it is worthwhile because when you have verified ownership Google will send helpful information about further steps you can take to ensure your site gets the ranking it deserves.
As Google themselves say "You don't have to sign up for Search Console to be included in Google Search results, but Search Console helps you understand and improve how Google sees your site." The Google Search Console can notify you about problems with your Website and will advise on troubleshooting as well as providing information on search queries, backlinks and more. It's a free service and I like free 😉
Aside – With more than 87% of all UK searches in 2019 carried out using Google it is the search engine we should be most concerned about and the reason people often refer to searching as "Googling".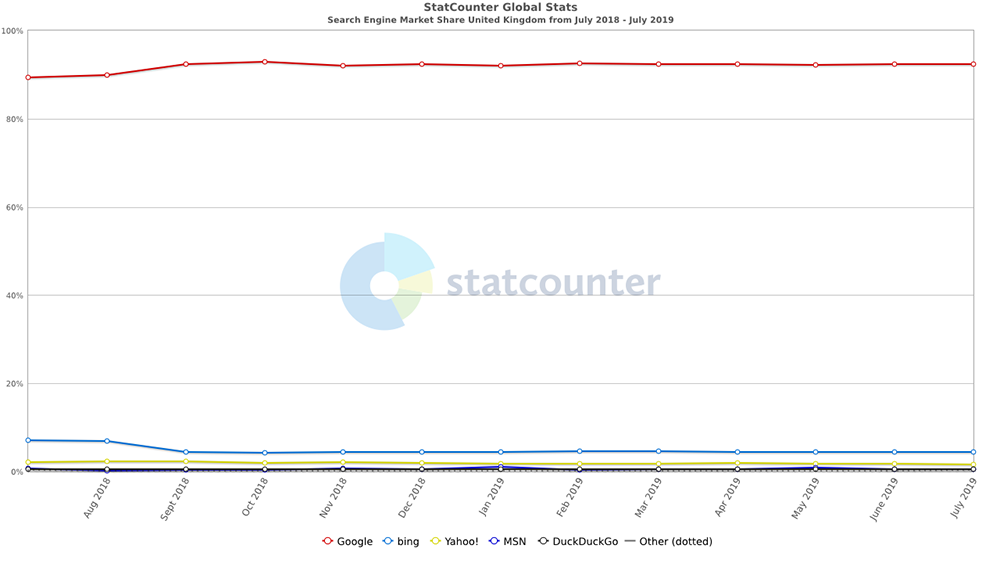 [source: https://gs.statcounter.com/search-engine-market-share/all/united-kingdom August 2019]
3: SUBMIT YOUR URL TO BING TOO
With just over 8% of searches carried out on Bing, it is easy to overlook. However, the Microsoft search engine also has Webmaster Tools along similar lines to Google so it is worth signing up and submitting your URL there too.
Incidentally, if you're wondering about Yahoo, (Ya Who?) it uses the same data as Bing so if you signed up for the Bing Webmaster Tools you're covered.
4: GET A VERIFIED GOOGLE MY BUSINESS LISTING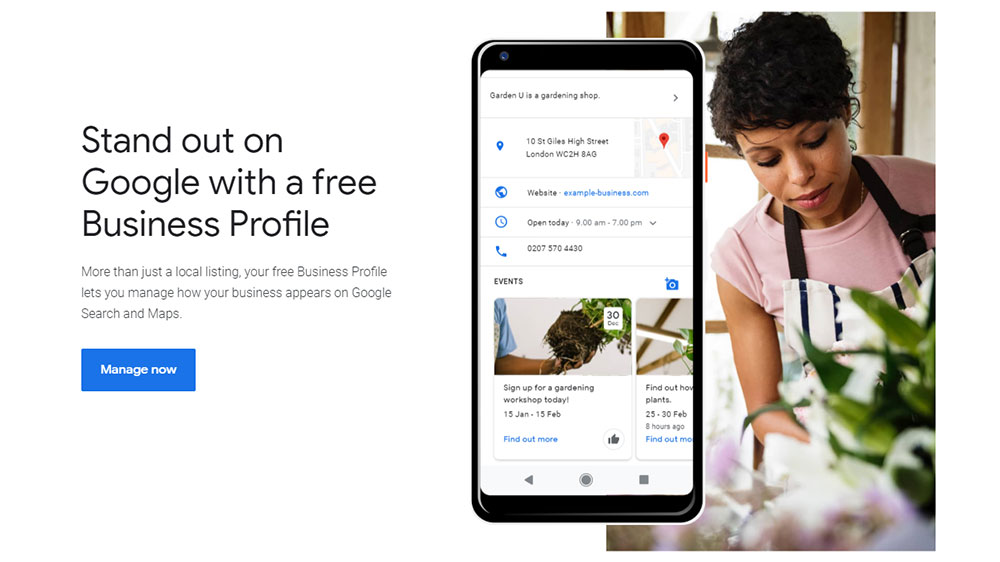 Formerly called Google Places, a Google My Business listing will get your business to show up in Google Maps which is vital for local searches. But that's not all: Google My Business allows you to create a full business profile, allows customers to contact you and leave reviews, create special offers and more. You can also keep track of your stats and edit everything on the go by installing the dedicated Google My Business app on your phone.
It's easy to get listed, visit https://www.google.com/intl/en_uk/business/ and enter your details as fully as possible. Use your legitimate business trading name and address, and include your opening times, contact details, etc. Adding some relevant photographs is always a good idea and including your logo will make your listing pop.
Make sure the information you submit is accurate and honest. It should be consistent with the information you have elsewhere on the Web, including on your website. When writing a description for your business, think of the information that your customers need and will find useful. Don't try to 'game' Google with excessive keyword phrases or irrelevant information as it won't do you any favours in the long term and could even get your listing banned – especially if you claim to be based in a town or city where you are not. (I know people who have tried this and, trust me, it didn't go well!)
After you've entered your details you will need to verify that you are the genuine business owner. This involves entering a unique PIN code which is sent to your business address on a postcard. Once verified your business will start to show up for relevant searches, both for local searches using a phone and in desktop search results. Where you appear in the results will depend on many factors but you can help by including plenty of accurate and relevant information, uploading product images and most importantly; getting good reviews from genuine customers.
5: DON'T FORGET ABOUT A BING BUSINESS LISTING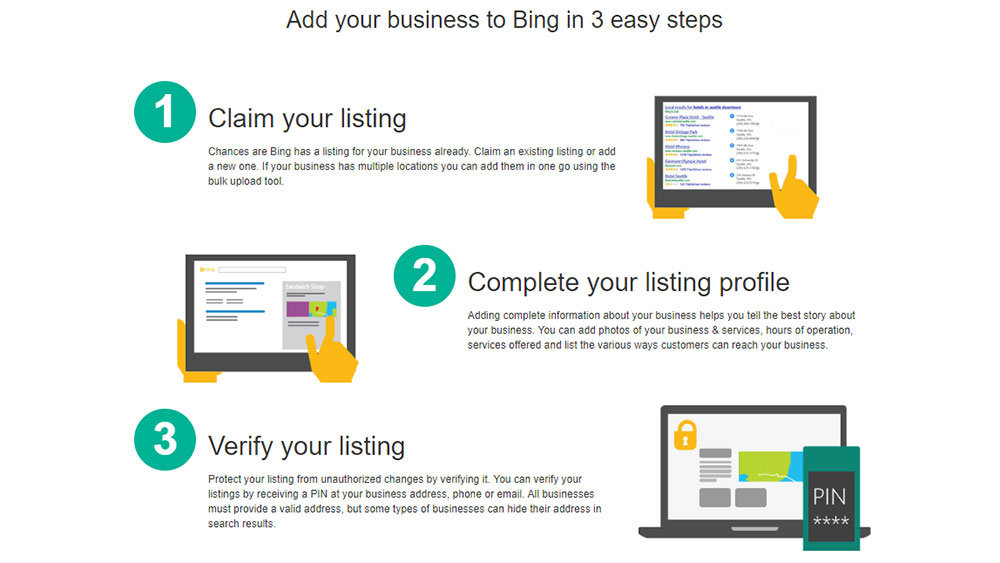 Just like the search console, Bing also has its local business listings and it is easier than ever to add your own business. Simply visit https://www.bingplaces.com/ and follow the same procedure as for a Google My Business listing remembering to include as much relevant info as possible.
6: ADD YOUR URL TO YOUR SOCIAL MEDIA PROFILES
No business can afford to ignore social media these days. Facebook, Twitter, Instagram, LinkedIn, YouTube, etc all have their place. I know a local driving school that does very well on Facebook, an online clothing and style brand that has a lot of success on Instagram and a local chauffeur who swears by Twitter. But that's not to say you should stick to one platform – there is a lot of benefits to be gained from sharing your content across multiple social media accounts and it is very easy to set up automatic cross-posting.
Which platforms you should use and how effective they are will depend on the type of business you are in. At the very least you should create a Page for your business on Facebook and make an effort to post something regularly. How about making the first post on your Facebook Page an announcement about your Website? (Including the URL of course!)
7: SUBMIT TO 'REPUTABLE' BUSINESS DIRECTORIES
The next step to promoting a new website is to submit your details to some of the better online business directories. This can be a bit repetitive and you will need to verify your details for each directory by clicking on a link which is sent by email, but it is well worth doing. Remember to be consistent: If you have more than one phone number or contact email address for the business you should use the same ones for all of your submissions.
Some UK business directories worth submitting to include:
The above is not an exhaustive list and there are plenty of other business directories. You can find others to submit your URL to by searching, for example; "business directory [your area]" or "business directory [your speciality]". Some of the local or specialist directories can be very worthwhile submitting to.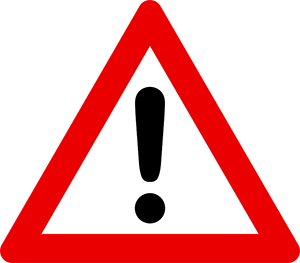 But beware of low budget 'spammy' type directories. In the past, it was beneficial to have links from as many sources as possible but this is no longer the case. Since the Google Penguin update of 2012, having too many links from 'low quality' sites can have a negative effect. An inferior directory can usually be spotted by its content. If you see dodgy-looking listings advertising dubious products and services on the homepage then it's almost certainly not worth bothering with.
FINAL THOUGHTS
Now you know how to promote a new website. Simply by using the seven steps above will get your new (or not so new) website established and ensure it can be found online. Depending on your competition, it could even bag you a pretty decent ranking in Google. But Website promotion should be an ongoing process. Some things to consider going forward include:
Maintaining a presence on Social Media with regular updates
Encouraging positive online customer reviews
Adding special offers to your Google My Business profile
Providing useful content on your Website, such as blog posts (like this one!)
Too Much?
If this all seems like too much and you would rather spend your time doing something else, then have a look at Local Business Promotion Done For You