WordPress is undoubtedly the most popular website CMS in the World. With some very notable companies such as The Walt Disney Company, Mercedes Benz, Vogue, The Rolling Stones & The Official James Bond 007 Website, to name but a few, all relying on the platform for their main presence on the Web. In fact, I think it's fair to say that WordPress has become ubiquitous and many designers simply couldn't imagine creating a site without it. One of the things that makes creating websites with WordPress so convenient is the very high quality of pre-built themes and the power of page building plugins which allow a designer to quickly craft a well-presented layout in next to no time.
"The Most Popular WordPress Theme In The World And The Ultimate WordPress Page Builder"
The most popular combined theme and visual page builder for WordPress is Divi, and deservedly so. Divi is constantly evolving and keeps getting better and better! The latest version has huge performance improvements and includes the most versatile theme builder out there. If you haven't heard of Divi (where have you been?) or if you checked it out a while back and weren't impressed then I would urge you to take a look at the latest version (affiliate link). In my opinion, you won't find a more versatile WordPress theme or a better visual builder.
Why You Should Install A Divi Child Theme
With the built-in theme builder, global presets, and more you might be wondering why on earth you would need a Divi Child theme. Divi is so flexible 'out of the box' that it is easy to think that you don't need to use a WordPress child theme but using a basic Divi child theme will allow you to add functionality and structural changes to your website which will be preserved when the main theme is updated. You might not think you need a Divi child theme straight away but adding one right at the start will keep any customizations you might make in the future separate from the main Divi theme. You can then happily take advantage of all the latest Divi developments by updating the main theme worry-free.
Most of the Divi child themes I have found on the Web include unnecessary elements or stuff I don't want so I decided to create my own very basic no-frills child theme for Divi (creating a WordPress child theme is actually very easy when you know how – see https://developer.wordpress.org/themes/advanced-topics/child-themes/#how-to-create-a-child-theme for details). There is nothing special about my child theme. It won't make a Divi website look any different or add any style or function. It is as basic as a child theme can be. Which is why I call it my Blankety Blank Divi Child Theme. If you would like a copy, here's the link: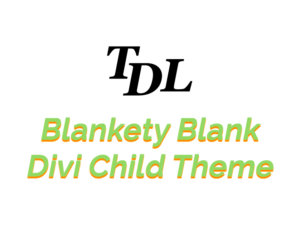 Blankety Blank Divi Child Theme [DOWNLOAD]
Adding Functionality To A Divi Child Theme
One of the great things about WordPress is that you can find a plugin for just about anything you can imagine. But it has to be said that installing too many plugins can slow down a WordPress website. So I like to avoid installing another plugin wherever possible. Which is why when I wanted to add support for SVG images I chose to add it to my child theme's functions.php file instead.
This version of my Divi child theme allows you to import SVG images into the media library and use them on your pages and in posts etc. If you would like a copy, here's the link: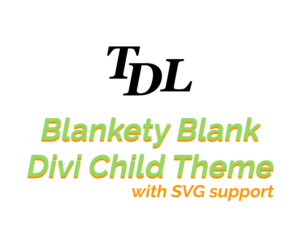 Blankety Blank Divi Child Theme with SVG Support [DOWNLOAD]
New To Divi? Get It Here!
If you're new to Divi and you still haven't signed up then check it out at https://bit.ly/2ZxLvZR – this is my affiliate link. It won't cost you a penny extra if you decide to buy the Divi theme after clicking my link but I might receive a small commission. Which means I can continue to create resources like this one 🙂